On the piste with the bon viveurs – Travel Mail
The first sound you hear is bells, when you look up there's a horse drawn sledge waiting to take you to your hotel.
This is no gimmick, Avoriaz is a car free zone. When you want to get somewhere quickly (or just in extreme style) you wave down a passing sledge.
We do a 180 and head up into the centre of town. Avoriaz is big enough to have everything you need: cash-points, a cinema, good tourist information and even ten pin bowling, but it's still small enough to be intimate and romantic.
The current hotspot of Avoriaz is the Hotel des Dromonts. The building is known as 'the pinecone' because of its avant-garde sloping surfaces. Think of an alpine Gaudi and you won¹t be far off.
The avant-garde look continues inside. Just down from the main door is a snug by an open fire. As you look around at the uneven floors, circular windows and sloping beams you feel as though you have walked into a work of art.
It's not surprising that the rich and famous mingle here to see, be seen and to eat the fantastic food.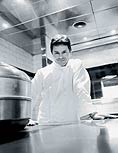 Christophe Leroy
Ah yes – the cuisine. The hotel is run by one of France's top chefs – Christophe Leroy. He was the youngest chef to win the prestigious Clef d'Or la Gastronomie and since then he's been on a mission to produce food that dances on the taste buds.
The gastronomic highlights for me were venison with foie gras and chicken in pear sauce. As these two dishes suggest, this cuisine is not for the meat shy. Indeed the menu ­ like many in France ­ reads like the cast list for Bambi.
The hotel also organises themed activities ­which normally revolve around food and drink. They change from week to week, but generally include fondue, fancy dress evenings, picnics on the piste and torchlight skiing. There's a list of dates and events on the hotel's website (www.christophe-leroy.com).
I took the wine and cheese tasting evening (some great wine from the region) and also saw a culinary demonstration where a salmon was expertly cut, boned, baked and sliced before my eyes.